Blog
Smoked Turnip Salad
Black Garlic Cream, Nasturtium Flower
The idea is to find a new, funky use for the beloved but often misunderstood turnip and create a room temperature salad with remarkable flavor components, similar yet different from the old standby, the potato.
Prep Time: 15 min
Smoker Time: 1 hr.
Cooking Time: 20 minutes
Skill Level: Medium
Serves: 4 Servings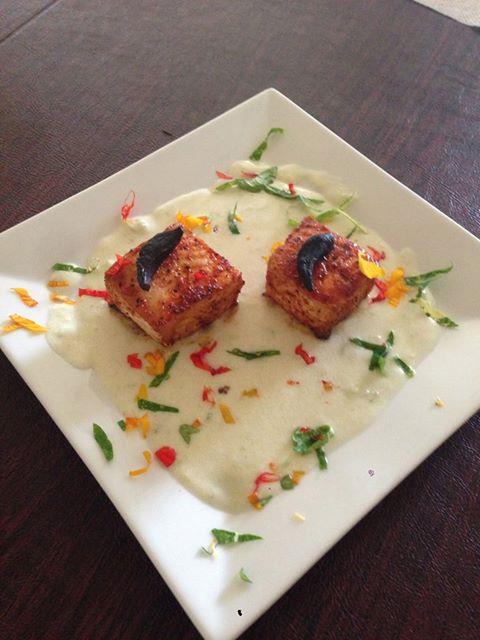 Ingredients
8 medium turnips, trimmed and cut into 1-1/2" cubes
1 tbsp. Obis One Black Garlic Sea Salt
½ tsp. granulated onion powder
4 Obis One black garlic cloves
4 Nasturtium flowers and leaves, chopped fine
Directions
1. Prepare smoker with your choice of wood to 300 degrees F.
2. Mix together black garlic sea salt, paprika, onion powder, white sugar and brown sugar in a bowl.
3. Rub the mixture on all sides of the turnip cubes. Place on a rack in the smoker and allow to smoke 45 minutes. Remove and set aside.
4. Melt butter in a small saucepan over medium low heat. Add flour and whisk for 1 minute. Add milk, sour cream, cream cheese, shallot and cayenne and cook over low heat until reduced to your preferred consistency.
5. To assemble, ladle ¼ of the sauce onto individual plates, top with two turnip cubes, top each with one half black garlic clove, sprinkle with flowers and serve.
Comments ():