Blog
Obis One Highlights of the Week – 6/21
Obis One Highlights of the Week – 6/21 Well, spring is just zooming by at the farm, as we're sure it is for a lot of you. It's a busy time of year, with graduations, Mother's Day, Father's Day. Enjoy the first day of summer today – summer solstice – the day of the year with the longest period of sunlight (for all of us except those in the polar regions).
Of course, we've been busy with harvesting crops and planting new ones, trying to take advantage of the soil available without overusing it. A key principle of sustainable agriculture is soil management. A "healthy" soil will produce healthy crops.
Today we'll be harvesting the first of our glacier tomatoes – these are little guys but have that New Jersey tomato flavor! Where the radishes grew, we've planted "merlot" peppers. They are sweet peppers but instead of a green hue they will be a deep purple, almost black. Can't wait to see how they taste! Another pepper we're growing is the Nu-Mex Suave Orange – one of two of the mildest habaneros there are. This variety of pepper was developed by New Mexico State University.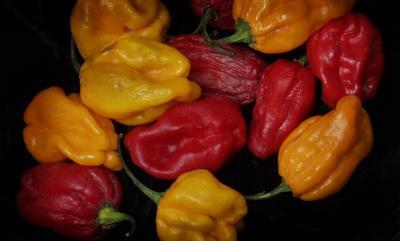 By the way, the garlic has thrown its scapes! A couple of blogs ago we mentioned that we expected this to happen soon and it was a week earlier than we thought. We spent the better part of the day Memorial Day clipping off these crazy looking, twirly shoots which pop up from the middle of the garlic plant.
If you like garlic, then you should enjoy the flavor of scapes. Plus, they pack all of the health benefits of garlic. The bad news is that they aren't around very long, so enjoy them while you can. We're making some small batches of scape pesto, if you're in the area and want to get some just give us a call.
We're looking forward to sharing some community outreach at the Pennsville Public Library later this month. They have a summer reading program and the theme is "Dig Into Reading" – how appropriate. We're thrilled that they reached out to us and asked if we could present a program. Our boys' grandmother took them to this reading program when they were younger, so how cool for us to be able to help the next generation.
For you history buffs, here's a photo of a Franklin Stove at Obis One. Invented by who other thanBen Franklin. The concept of the wood stove allowed families to warm their homes with less wood and less danger than fireplaces. Ben turned down an offer for the fireplace design – he wanted everyone to benefit from his invention. The one we have here at Obisquahassit is French inspired with regard to its design.
Just posted on the website – new recipes! For those of you who are pasta lovers, try Black Garlic Gnocchi. The Black Crack Casino was a hit at our son's last baseball game of the season!
There's nothing like cooling down with a little "Hot Pepper Snow" in summertime! Join us atPepper's in Lewes, DE this Saturday, June 22 from 11 am – 4 pm as we unveil this new culinary invention.
Comments ():